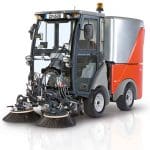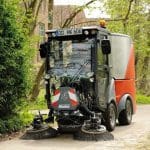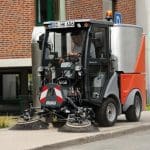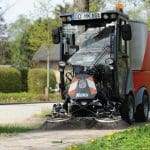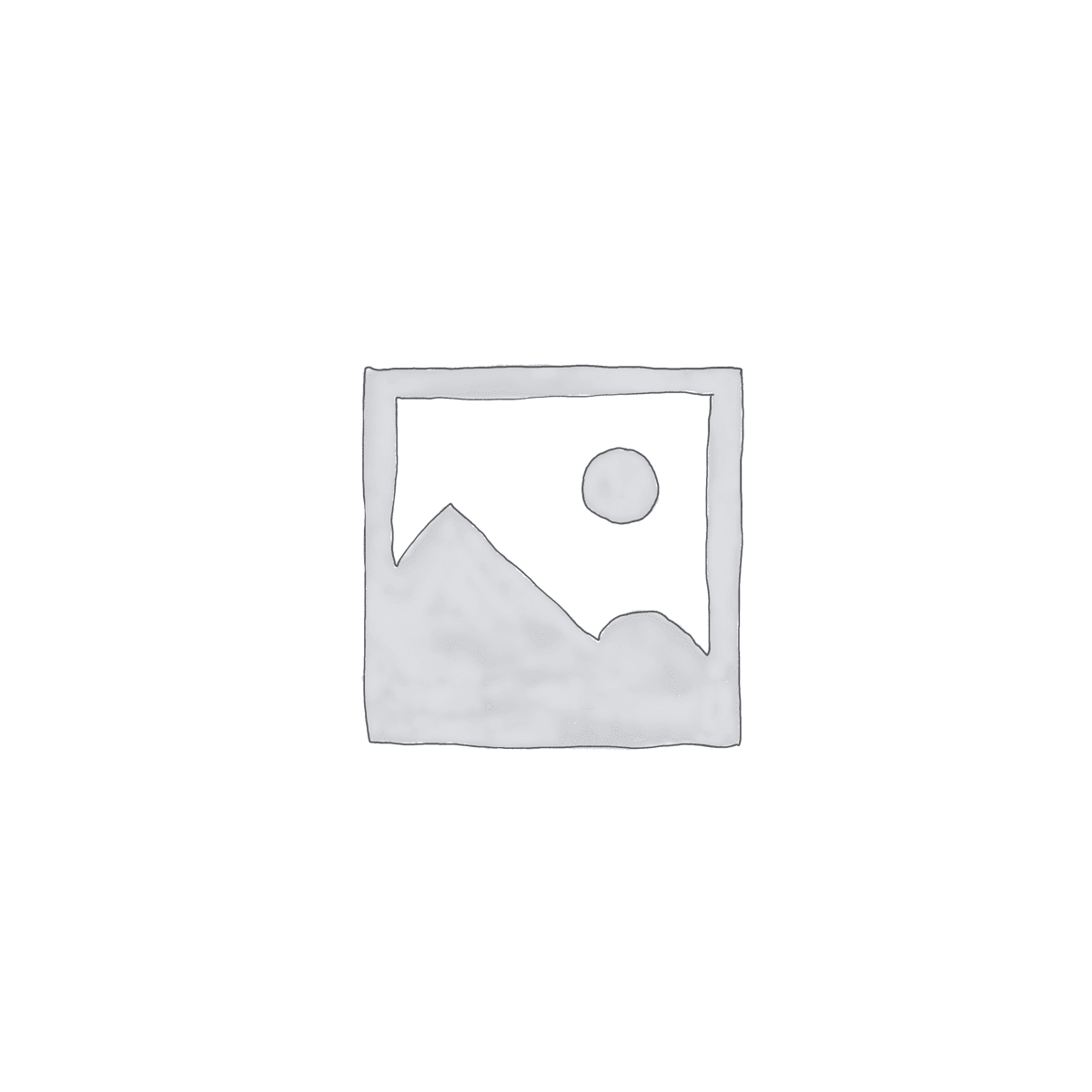 Citymaster 600 Compact Footpath & Street Sweeper
Key Features
One-touch operation
No-tool Quick-change system
High ground clearance for climbing kerbs
Rated to PM10 (3 Star) for dust emissions
Permanent all-wheel drive
Travel speed of 25km/h
Articulated steering for unmatched manoeuvrability
Easy access for daily maintenance and care
New dimensions of economic efficiency.

The Citymaster 600 executes large sweeper performance within a tight, effficient, compact unit. The operator's spacious and comfortable workplace dramatically reduces fatigue during long working days. With its narrow working width and extreme manoeuvrability, the vehicle can access even the most confined areas.
The 600 compact sweeper with a quick-change system and a wide variety of optional attachments is a virtual Swiss army knife of City and carpark cleaning. The versatility of the platform means that options can be added at any time to respond quickly to rapidly changing operational demands. Buy what you need when you need it. The robust and maintenance friendly design minimises downtime for servicing and repairs and maximises ROI profitability.
Hako's flexible financing options enable you to accurately budget according to your financial or contractual needs!
Professional sweeping results.
The compact dimensions of the Citymaster 600 belie its capabilities as a serious work-horse. This integrated professional sweeper includes large adjustable brooms and a powerful suction unit that allows cleaning on an unprecedented scale for a machine of this size. The universal 600 litre hopper guzzles up to half a ton of dirt and debris, extending dump cycles and maximising range and coverage for longer, more productive periods of operation. The robust design of the sweeping unit features a patented design that protects the assembly and the vehicle against accidental damage. The quick-change system enables quick & easy mounting and removal of the sweeping unit and hopper for either other attachments or machine servicing by a single operator or service person. The high-dump, easy to clean hopper saves the operator time and you, money.
Environmentally-friendly equipment.

Great performance is something you want to see not hear. That's why you can switch to ECO mode while the machine is in sweeping mode to reduce both the fuel consumption and noise emissions. A filtered, continuous circulating water system and fresh water to the brushes and suction hose and a comprise a sophisticated dust suppression system that meets 3 star PM10 dust emission standards. The exhaust air is noise insulated and routed over the hopper lid to protect the environment as well as pedestrians.
Useful options such as the hand-held suction hose and the high-pressure cleaner add to the range of applications in road & footpath cleaning and transform the 600 into a powerful multi-function workstation.
Hako's Integrated Environmental Cleaning (IEC) System, comprises of Hako Anti-bacterial tanks (certified to ISO22196) increasing hygiene and safety standards, daytime cleaning technology reducing evening energy consumption, certified and patented aqua control brushes delivering up to 50% less water and chemical reduction and Hako's Aquaforce chemical free cleaning system.
The compact sweeper built to dominate.
Compare