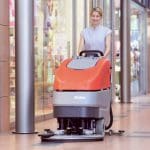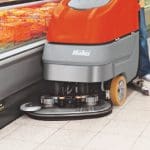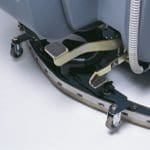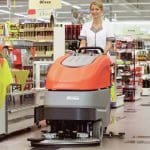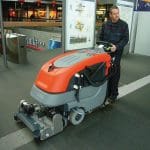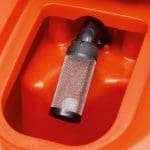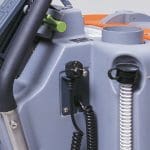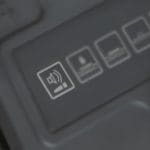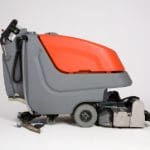 Scrubmaster B90 CL Industrial Battery Electric Floor Scrubber – 65cm-85cm
Walk-behind scrubber-drier for medium-sized to large areas
Easy handling, super performance, efficient, environmentally-friendly.
Providing a cleaning performance of up to 4,200 m²/h, the Scrubmaster B90 CL is ideal for efficiently scrubbing & drying medium-sized to large areas, for example shopping centres and supermarkets, office buildings and public authorities or production halls and warehouses. The machine?s traction is always superior, thanks to non-slip and non-marking tyres. Both the special features and handling characteristics of this scrubber-drier provide particularly economically efficient working.
Maximum economic efficiency: In every detail
Optimised for economically efficient use: the walk-behind scrubber-drier Scrubmaster B90 CL. The heavy-duty design – the machine is equipped with a brush unit and squeegees made of die-cast aluminum – makes this Scrubmaster particularly reliable while minimising repair costs and downtimes. The flat brush deck (less than 10 cm high) ensures easy cleaning under racks and shelves, and speed-dependent water dosing provides particularly long operating times. In addition, optimised ergonomics, intuitive handling and various innovations that reduce the consumption of water and cleaning detergents are important factors in making this machine highly productive.
Special features
Designed with much attention to detail
Innovations provide reduced operating costs and increased economic efficiency
Hako's technological lead contributes to reducing operating costs, increasing economic efficiency and cleaning in a more eco-friendly manner.
Hako-Chemical on Demand – need-based use of chemicals: Cleaning chemicals are added only when absolutely necessary.

Technical data
Scrubmaster B90 CL at a glance
| | | |
| --- | --- | --- |
| Scrubmaster | B90 CL TB650/750/850 | B90 CL WB600/700 |
| Working width scrubbing cm | 65 / 75 / 85 | 60/70 |
| Theoretical area performance m?/h | 3200 / 3700 / 4200 | 3000/3500 |
| Working speed km/h | 5 | 5 |
| Brush system | disc | cylindr. |
| Solution tank capacity l | 85 | 85 |
| Recovery tank capacity l | 85 | 24 |
| Nominal voltage V | 24 | 2,3 / 2,6 |
| Total output kW | 2,3 / 2,3 / 2,6 | 240 |
| Length with squeegee cm | 240 | 164 |
| Width with/without squeegee cm | 166 | 59/95(110) |
| Height above the seat (operating handle) cm | 59/95:110 | 115 |
| Weight, filled, incl. Battery kg | 115 | 415-480 |
Compare