THE ANTI-MITE SET – sleepfree – 6 months mite-free
Millions of mites thrive in every mattress you use. With our body heat, moisture (sweat) and dander (mite food), we ensure the perfect climate for the eight-legged arachnids. However, their droppings are particularly difficult for people with allergies. The sleepfree anti-mite set is skin-friendly and immediately frees your mattresses from unwelcome bedfellows and ensures a restful, hygienic sleep – for 6 months – scientifically proven.
Works immediately and lasts for 6 months

 .

Removes mites, mite droppings, dust, hair and dander.

Suitable for mattresses (except waterbeds), upholstered furniture, carpets, cuddly toys, animal beds and much more

Ideal for allergy sufferers and for allergy prevention.

Particularly easy to use.

The patented sleepfree Vibra nozzle fits all commercially available vacuum cleaners with a round suction pipe

 .




(Adapters for vacuum cleaners without a round suction tube, e.g. Dyson, Vorwerk are available separately from Amazon.)

sleepfree spray sold separately.

With the active ingredient of chrysanthemum.
The mite problem
The mattress as a health risk
An unclean mattress is a hygiene problem and health risk in many places today. Due to the constant room climate in the bedroom, a mattress that is only one year old becomes an ideal biotope for house dust mites, bacteria, viruses and fungal spores.
Supported by dander, dust and sweat, they find ideal living and reproduction conditions in the mattress. Even the thickest sheet cannot protect against these microparticles and it is impossible to remove all pathogens from the mattress with conventional cleaning methods.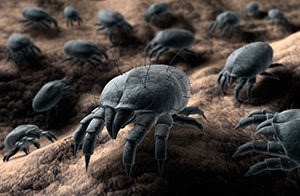 House dust mites are found almost exclusively in human homes; they cannot survive outdoors due to a lack of food and air humidity. The largest part can be found in our mattresses, but they are also found in upholstered furniture, carpets and the like. dust collectors.
We shower, brush our teeth, change clothes, but we sometimes sleep on an unsanitary mattress! The mattress is indisputably the most impure object with which we are in close contact for 1/3 of our lives.
A study proves that there are an average of 1 billion germs in 1 cm² of mattress surface. For comparison: in a toilet there are just 33,000. On a busy doorknob 70,000.
The bacteria-infested skin flakes offer the house dust mites plenty of food. Reproduction is numerous, natural enemies such as predatory mites are extinct. Up to 2500 mites were counted in one gram of dust, which corresponds to two million house dust mites in a mattress. This huge army of mites produces corresponding amounts of mite excrement.
According to scientific knowledge, this is the trigger of allergies (house dust mite allergy) with their consequences (such as runny nose, urge to sneeze, red eyes, conjunctivitis, shortness of breath, dry cough, itchy skin, rashes, eczema, headaches, sleep disorders, asthma). Together with the dust, the mite droppings are thrown up with every movement, the mattress acts like a bellows and the particles get into the mouth, nose, eyes, ears and settle on the skin. A disaster for every allergy sufferer, asthmatic and bronchial sufferer.
In the course of its life, the house dust mite produces 200 times its body weight in excrement, which sticks to textile fibers in small globules covered with mucus and later breaks down into powdery fine dust.
This mite feces contains the allergy-causing allergen. Scientists now agree and a whole series of scientific articles and studies confirm that the guanine-containing mite excrement poses a health risk.