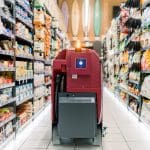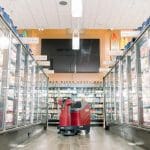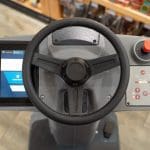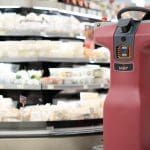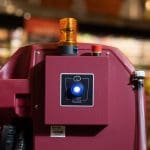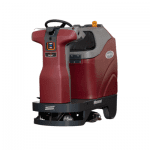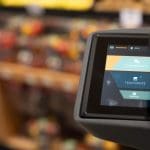 Autonomous Scrubber Minuteman Roboscrub 20
The market's interest in autonomous machines has increased substantially not least because of the increasing shortage of skilled labour in the cleaning industry.  However, there is a lot to learn in this segment for all parties.  At Hako we know how to make quality cleaning machines.  Artificial Intelligence is the future and our goal is to create the perfect marriage between the two.
Safety Remains On a High Level
Since the particular challenge of autonomous cleaning lies in carrying out applications in complex, public, and constantly changing environments, safety plays an important role.
Test runs have provided evidence that the Roboscrub 20 has successfully solved the issue of identifying and circumnavigating obstacles safely and reliably.
Control: Manual and autonomous.
Learning System: Autonomous function is trained by user to replicate multiple scrubbing routines.
Navigation: Multi-layer sensor system perceives environment, controlling vehicle and navigation.

 

Safety: Overlapping sensors detect and avoid people and obstacles.
Equipped with auto-stop button. Beeps alert passerby.
Support: Robot Operations Center (ROC), managed by Brain Corp technicians, provides remote monitoring, usage analytics and first line customer service.
Mobile Alerts: Phone alerts include needs more solution, needs to be charged, and obstacles.(not obstruction)
Key Features
Compact dimensions
Superior maneuverability
Ergonomic design for maximum operator comfort
Transport speed of up to 6 km/h which may be controlled and reduced at the push of a button
Long running time
Technical Specifications
| | |
| --- | --- |
| Cleaning Pad Width | 508 mm |
| Squeegee Width  | 635 mm |
| Brush Speed | 200-350-450 rpm |
| Brush Pad Pressure  | Floating – Locked  |
| Water flow rate | 0-1.5 L / min |
| Max. Manual Speed | 5 kph |
| Max. Manual productivity rate  | 2527 m2/hr |
| Max. Autonomous Speed | 4 kph |
| Max. Autonomous Productivity Rate | 1895 m2/hr |
| Noise  | 68 dBA |
| Dimensions & Capacity  | |
| Length  | 1207 mm |
| Width | 648 mm |
| Height | 1143 mm |
| Weight with batteries | 313 kg |
| Solution Tank Capacity | 68 L |
| Recovery Tank Capacity | 68 L |
| Vacuum Power  | 550 W |
| Nominal Voltage | 24 V DC |
| Batteries  | 2 x 12 V 234 Ah Wet Lead Acid |
| Run Time | 3 – 3.75 hrs  |
Compare