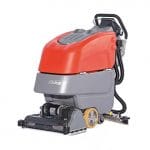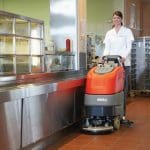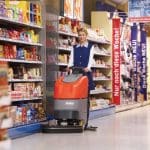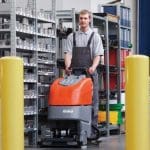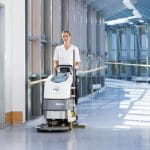 Scrubmaster B30 Industrial Battery Electric Floor Scrubber – 43cm
hako antibac?
The antibacterial tank coating, Hako AntiBac?, for the recovery and solution tank provides considerably better hygienic conditions in the tank and on the surfaces cleaned as well as ensuring a reduction in the consumption of disinfectants by cleaning the tank.
hako aquaforce?
Hako Aquaforce? is a space saving, stationary system for cleaning without chemicals. It removes all minerals from tap water. The demineralised water can loosen dirt better and reduces the risks of resoiling – for lower operating costs and less environmental pollution.
Hako chemical on demand
By applying the Hako Chemical on Demand feature, cleaning agents are only implemented when they are actually needed. In the case of low level soiling, cleaning can be completed economically without any need for cleaning agents.
Key Features
High operator comfort.
Clear view of the working area.
Optimised handle position for relaxed and fatigue-free work.
Operating elements arranged clearly and understandably.
The Hako Aqua Control System saves water and cleaning agents by up to 50%.
Thanks to the optional connection for a hand-tool even inaccessible places can be reached.
The air current in the tank is optimised with AFS (Anti Foam System). Thus practically no moisture reaches the suction motor. This means optimum machine life and lower machine life costs.
For the quick and easy cleaning of smaller and medium-sized areas. Maneuverable and compact.
Compare